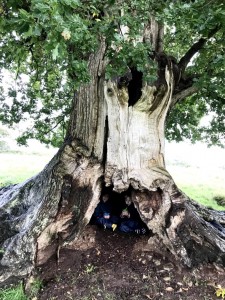 Can you find a wand and cast a magic spell? Make an echo from a fallen tree? Or maybe navigate your way through a woodland web? Join us on our Family Adventure Trail through Ashton Court Park and get ready to discover nature's ultimate playground.
The Adventure Trail is a 3 mile loop, winding through the woodland and meadows of Ashton Court. Children and adults alike will love exploring ancient oak trees and secret tracks, peering up at Giant Redwoods touching the sky, and searching low for magical minibeasts.
Following a trail map, you'll have a series of quests and challenges to complete along the way. Adventurers of all ages, from tots to teens will enjoy navigating the route and exploring the great outdoors.
Food will be available at the start and end of the trail but we recommend bringing your own snacks and drinks to boost the energy levels of mini-adventurers along the way!
Distance:
3 miles
Difficulty:
Regular
Time:
Register 9.00am-3.30pm
Meet:
Festival Hub, Ashton Court
Cost:
£5 per family