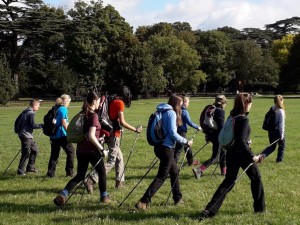 Join this workshop about Nordic walking, a fitness activity which uses specially designed poles to help you walk faster, improve your posture and balance and give you a whole-body workout. 
Nordic walking is based entirely on your regular walking and is suitable for everyone, making walker harder if you're looking for a low impact energetic aerobic activity, and easier if you're wanting support to help make walking easier.
This taster session is an active session with an experienced Nordic 4 instructor who'll teach you the basic Nordic walking technique including how to use the poles correctly and how to engage and work your key walking muscles. 
It's specifically for age 18 and under. Poles will be supplied and don't worry about your fitness level, you can Nordic walking at your own pace. Session will last around 45 minutes.
For more information about Nordic walking visit Nordic 4
Book
Venue Festival Hub, Ashton Court
Ashton Court Mansion Estate
Church Lodge Car Park, Long Ashton
Bristol
BS41 9JN