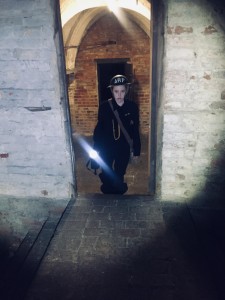 Looking Glass Theatre's 'Mystery Tours', in partnership with Northampton Borough Council.
The  theme for this particular interactive theatrical walk is 'Hidden Secrets' - where audience members will be transported back into Northampton's historical past, this time walking the streets of Northampton. Here are some of the highlights of what to expect!
Along the way, audiences will be given the challenge to find the 'ghost writing' on a wall of a shope gone by, see one of the the first buildings to have electric light fitted, stand in the spot where Queen Victoria delivered her speech to the Northampton crowd during her visit in 1844, walk across the blocked up entrance to an air raid shelter which could hold up to 70 people and locate the possible  hidden entrance to a secret victorian crypt! All this plus much more! Be prepared for some theatrical suprises too!
Want to find out more, then book your ticket today!
Date
: Sunday 15th September 2019
Times:
1pm & 3pm 
Ticket Price:
£2 (We are delighted due to our partnership with NBC, to be able to offer these walks at these discounted prices)
Tour Meeting point:
 Outside 'The Guildhall' main steps. 
Time Duration:
 Approximately 1hr to 1hr 15. (Please allow a maximum time of 1hr 30mins)
Route:
Northampton Town Centre
N.B. This theatrical walk will take place mostly outside. Contact number on the day: 07711 540546