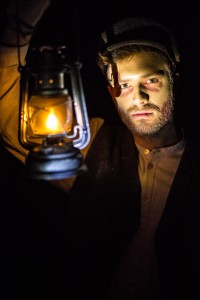 Come and hear tales of ghostly apparitions from days gone by, of trapped spirits, mysterious footsteps and strange tapping on glass enriched with a glimpse of Northampton's historical past.
ONCE a town of great importance, Northampton history is often long forgotten. Looking Glass Theatre's Ghost Walk mixes theatre, history and the paranormal to REAWAKEN the town's past. During HALLOWEEN 2019 the theatrical team returns for the sixth year with a brand new tour set inside a 16th Century Manor House; once an 19th Century asylum - now called Abington Park Museum!.Tours run 29th October - 2nd November, 2019.
Tour Details:                                                          
Your evening will start by deciding whether you are brave enough to step over the threshold and venture into the 16th Century Manor House. You will then be taken on an interactive ghost walk to explore the many ancient rooms, unlocking secrets of the past! All under the watchfull eye of the housekeeper!
Enter if you dare!Tour dates: 29th, 30th & 31st October  1st & 2nd November 2019
Times: 6.30pm, 8.15pm   
Tickets: £12Meeting & Finish Point: Front entrance of Abington Park Museum     
Time Duration: The walk will last approximately one hour, however please allow one hour 15mins in case the tour overruns.
In partnership with Northampton Borough Council