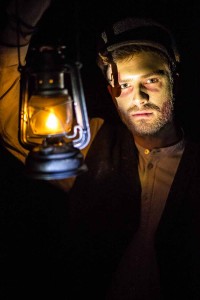 Come and hear tales of ghostly apparitions from days gone by, of trapped spirits in cellars, and mysterious footsteps enriched with a glimpse of Northampton's historical past.
ONCE a town of great importance, Northampton history is often long forgotten. Looking Glass Theatre's Ghost Walk mixes theatre, history and the paranormal to REAWAKEN the town's past. During HALLOWEEN 2018 the theatrical team returns for the fifth year with three tours. Tours run 23rd - 31st October, 2018.
Tour Two: 24th, 30th & 31st October 2018 at 6.30pm & 8.15pm                                                               
This tour will take you into Northampton's Guildhall itself, where ghostly tales from the past will be brought to life by our tour guide and other theatricalities! Walk with us if you dare, but if you do, be prepared to witness a trial of the 'blazing car murder', venture into dark prison cells, before finally making your way through the shadows of Northampton town centre to the cellars of the haunted Phipps Brewery. N.B. This is a similar tour as 2017.

Meeting Point: In front of The Guildhall, St. Giles Square, Northampton, NN1 1DE                             
Finish Point: Phipps Brewery, 54 Kingswell Street, Northampton, NN1 1PR
Time Duration: The walk will last approximately one hour.