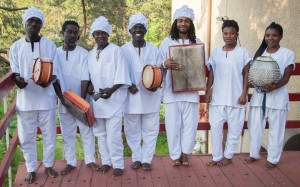 Friday 5 July | 15:00
Kakatsitsi are a group of drummers, dancers and singers from the Ga tribe in Ghana. Their music takes traditional rhythms and chants from their own tradition and those of a variety of West African cultures, rearranging them in a modern and accesible way . Regular festival appearances (including Glastonbury) have established Kakatsitsi as the leading African traditional group in the UK.
Tickets £16
If you are a wheelchair user, please book in person or by phone on 01543 306150. A 50% discount is available to essential companions and carers.