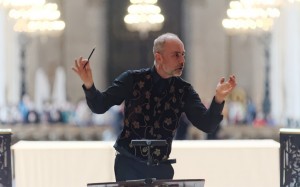 Monday 8 July | 1All day event with 9.15 performance
Your chance to star at the Lichfield Festival as a member of our "Come and Sing" Choir for a performance of Handel's Messiah, in the splendour of the Cathedral, accompanied by Orchestra Nova and joined by international soloists Rebecca Buttone soprano and Polly Leech mezzo (2019 Artists in Residence) Robert Murray tenor and David Ireland bass, all under the baton of conductor and choral workshop specialist Patrick Craig (St Paul's Cathedral, The Tallis Scholars.) For those who would rather listen, please join us in the evening and rejoice in the glory of Handel's sublime oratorio, one of the greatest works ever written.
Timetable for singers
​
9.30-11.15
Choir rehearsal
(Wade St Church)
Break allowing time to attend Laura Zhang recital
​
13.30-14.30
Rehearsal with orchestra
(Lichfield Cathedral)
19.15
Performance
​When booking you will be asked to specify your voice type (Soprano, Alto, Tenor, Bass, or don't know)
​
Singers tickets £12
​Audience tickets £6-£25
If you are a wheelchair user, please book in person or by phone on 01543 306150.