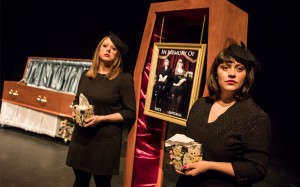 Tuesday 9 July | 20.00
Death. A bit grim, isn't it. Morbid, macabre, unmentionable- but does it have to be that way? Drawn together by their shared fear of death, Lucy Nicholls and Antonia Beck invite you to embark on a journey of discovery, contemplation and courage, to celebrate your own mortality- laugh, cry, stick two fingers up at the Grim Reaper and discover why talking about death is ultimately life-affirming!
Age guidance 14+ (please note this show contains adult language).

​Tickets £13
If you are a wheelchair user, please book in person or by phone on 01543 306150.