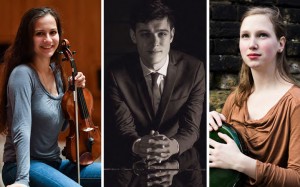 Thursday 11 July | 12.00
The Chloé Piano Trio was at the Royal College of Music in 2017. The Trio has performed across the UK and in France, and were prize-winners at the Birmingham Intercollegiate Piano Trio Competition in 2018.   Their programme includes Clara Schumann's delicate Piano Trio, Op. 17 (celebrating the 200th anniversary of her birth), as well as a work by her great friend and supporter, Felix Mendelssohn. The Chloé Piano Trio are Maria Gilicel violin, Jobine Siekman cello and George Todica piano.
​
Tickets £14
If you are a wheelchair user, please book in person or by phone on 01543 306150. A 50% discount is available to essential companions and carers.