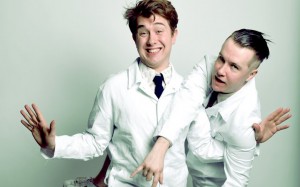 Friday 12 July | 19.30
Moon is a comedy double-act starring Jack Chisnall and Joshua Dolphin, two proud sons of England's provincial backwaters.  Their eponymous debut show garnered critical acclaim and sell-out audiences at the Edinburgh Fringe in 2018.  Expect dark, unexpected and immersive sketches, alongside some nifty soundtrack trickery and plenty of acting chops, in this eye-catching and hilarious show.
​
Tickets £13
If you are a wheelchair user, please book in person or by phone on 01543 306150. A 50% discount is available to essential companions and carers.