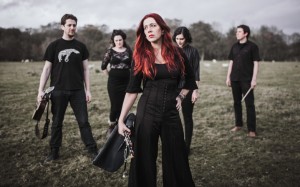 Wednesday 10 July | 19.30
Kathryn Tickell is the foremost exponent of the Northumbrian pipes: a composer, performer, educator and successful recording artist whose work is deeply rooted in the landscape and people of Northumbria.  Awarded the OBE in 2015, her extraordinary career began with learning tunes from old shepherd friends and evolved to traverse genres from jazz and world music to large-scale orchestral works. Exploring and cultivating her bountiful native heritage of Northumberland have been a constant throughout.  With her new band The Darkening, she takes inspiration from the wild, dramatic, weather-bitten countryside along Hadrian's Wall, so quintessentially Northumbrian, and yet, almost 2000 years ago inhabited by people from around the world, worshipping different gods and following different customs.
Tickets £8 - £22
If you are a wheelchair user, please book in person or by phone on 01543 306150. A 50% discount is available to essential companions and carers.