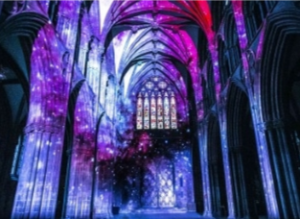 Dates between 8 - 26 August | 20.00 onwards
Back for a third year, The Great Exhibition returns with 'Space, God, the Universe and Everything,' a stunning visual spectacle inspired by the Moon Landing.
It will take you on a walking journey within the Cathedral revealing the universe, galaxies, space, creation, and light. 
Created by the award-winning Luxmuralis artistic collaboration, the exhibition features internal Son-et-Lumiere, artworks, and sound and light installations that transform the internal space of the Cathedral.
'One small step' Moon Floor Experience is included in The Great Exhibition.

Supported by Apollo
www.apollo.co.uk
​
Please note:
Tickets will be sold at 15-minute intervals. This is your entry time and not the start of the exhibition.
• Ticket price is based on tickets in advance. Tickets on the door will be £7.50 per adult and £5 for children and subject to availability.
• We anticipate the experience taking around an hour, but the exhibition can be enjoyed at your own pace.
• Children under 3 go free and do not require a ticket.
• The event is both pushchair and wheelchair friendly.
• Refreshments and souvenirs will be available to purchase.
• There are no toilets inside the Cathedral. Toilets are near the entrance via Dam Street, through the gates next to Chapters, The Café in The Close. 
• There is strictly no public parking in The Close. Please use close by city car parks (www.lichfielddc.gov.uk).
• Drop-off will be allowed for those with accessibility needs using the Beacon Street entrance.
• This is a sound and light show and for the best viewing experience please come to the later performances. The provision of early performances are ideally there to provide opportunities for families and young people who would otherwise struggle to come to later in the evening.
• This exhibition includes loud sounds, music and moving and flashing images throughout the experience, as well as bright lights and areas of darkness within the cathedral 
• Tickets are non-refundable and non-exchangeable. 
Advance Tickets
£5 adults, £4 children, £16 family (2 adults and 2 children)
Carers and essential companions 50% discount - please call
01543 306150
to book.
Tickets on the night (subject to availability)
£7.50 adults, £5 children, no family tickets