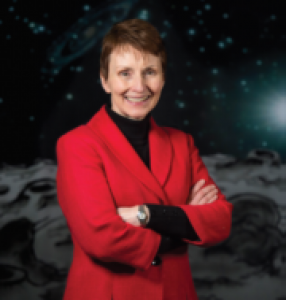 Monday 26 August | 15.00
Hear amazing insights from Helen Sharman CMG OBE, the first British astronaut.
Helen Sharman is a pioneer, a role model for young people (of all ages!), and an inspirational speaker.
She became the first British Astronaut when, in May 1991, aged 27, she launched on a Russian Soyuz spacecraft and spent 8 days orbiting the Earth, living and working on the MIR Space Station.
Helen will be telling us all about her experiences in a 45-minute presentation and then you will get the chance to ask her your burning questions in a 45-minute Q&A session.
This really is an opportunity not to be missed!
Tickets  Front £20, Middle £15, Rear £10
Tickets are also available from the Cathedral Gift Shop.

Carers and essential companions 50% discount - please call 01543 306150 to book.