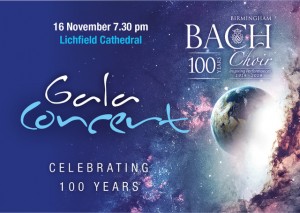 Saturday 16 November | 19:30
Paul Spicer, Conductor: "A centenary concert is a very special occasion and in the midst of all sorts of different and challenging programmes that the Birmingham Bach Choir is currently undertaking, it seemed essential to go back to our core and sing Bach and Handel with a little leavening of the bread with Haydn's extraordinary Nelson Mass.
We start the programme with the virtuoso motet by J S Bach Singet den Herrn which is a pure outburst of joy in outer movements. Normally performed just with organ continuo, this is also a wonderful opportunity to explore the richer textures of orchestral accompaniment with wind for one choir and strings for the other. Handel's Dixit Dominus is another great virtuoso work from the composer's youthful Italian period. An exuberant, celebratory, but in places deeply tender work which has become justly popular.
The Birmingham Bach Choir is on top form and this concert given with the wonderful period instrument orchestra, the Musical and Amicable Society, together with world-class soloists will make this a truly memorable anniversary concert."
Conductor:   Paul Spicer
Orchestra:    The Musical and Amicable Society
Soloists:        Soprano:       Anita Watson
                       Alto:               Samantha Price
                       Tenor:            Mark Wilde
                       Bass:             Felix Kemp
J S Bach: Singet dem Herrn     
Handel: Dixit Dominus     
Haydn: Nelson Mass             

Tickets Front Nave £25, Front Nave Concession £20, Rear Nave £15, Side Aisles £15
For wheelchair users or carers and essential companions (50% discount for carers), please contact the box office directly on 01543 306150.