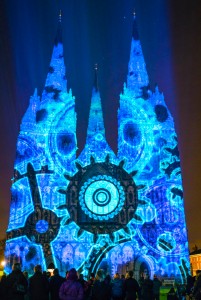 16 - 21 December
| Tickets in 15 minute intervals from 17:30 - 21:30
The award-winning spectacular light and sound show for Christmas is back.  The Best Event in Staffordshire for 3 years running! The artistic collaboration, Luxmuralis, return to light up the exterior and interior of Lichfield Cathedral with stunning sound and light projections. 
'The Beginning' will complete the journey of Space, Light and Time following this year's theme and is a stunning and spectacular experience for all the family to enjoy. The perfect beginning to Christmas.  
This year featuring 'Constellation: In the Image and Likeness' artwork by Peter Walker working with thousands of school children in the area. 
Tickets
Adult £6, Child £4 (age 4-16) and Family ticket £16 (two adults and two children)
Further Information
1. We've listened to customer feedback and this year there will be fewer people per time slot with a new earlier start time to accommodate families.
2. This is a ticket only event - there will be no access to The Close to non-ticket holders (residents will still have access).
3. Children under 3 go free and do not require a ticket.
4. The event is both pushchair and wheelchair friendly.
5. The event does require movement between projections and this includes an area with a small incline. There will also be a short wait between projections with limited places to sit.
6. Due to the nature of the projections the site will be dark and access around the Close is at the ticket holders own risk.
7. The event includes access to the Cathedral which will have a further series of projections and access to the Christmas Tree Festival, as well as the Cathedral Gift Shop (for those last minute presents!)
8. A Buggy Park is available in College Hall – Buggies are parked at owners' risk.
9. Ticket holder access will be from Dam Street only.
10. Please be mindful this is an outdoor event and therefore is open to the elements. Please ensure you check the weather and wear appropriate clothing.
11. There will be strictly no vehicular access. This includes no drop off and no accessible bays due to the light projections on the front of the Cathedral. For more information on where to park please please visit
www.lichfielddc.gov.uk
which includes information on accessible parking bays.
12. Tickets are non-refundable and non-exchangeable.
13. The Cathedral's café, Chapter's, will be selling hot drinks and winter warming snacks.
14. Visitor toilets are available on site - there are no toilets in the Cathedral.
15. Whilst entry is timed, you are free to walk through the experience at your own pace.
16. The projections will be a mix of light and sound. This might involve some flashing images and the music might be considered loud.