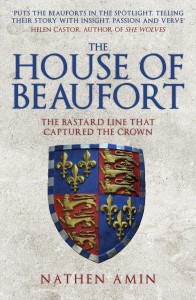 Thursday 26 March
| 1:30pm
The Wars of the Roses were a tumultuous period in English history, with family fighting family over the throne of England. But what gave the eventual victor of these brutal and complex wars, Henry Tudor, the right to claim the crown? What made his Beaufort mother the great heiress of medieval England, and how exactly did an illegitimate line come to challenge the English monarchy?
Hear from author and historical researcher Nathen Amin as he explores his full-length biography 'The House of Beaufort: The Bastard Line that Captured the Crown'. Uncover the rise of the Beauforts from bastard stock of John of Gaunt, Duke of Lancaster, to esteemed companions of their cousin Henry V. The House of Tudor would eventually rise from a teenage widow named Margaret Beaufort and her young son Henry. Many books have been written about individual members of the dynasty, but never has the whole family been explored as one.  
With the chance to meet Nathen and buy a signed copy, this event is ideal for those with a keen interest in history and also those studying the time period.
Tickets
£10
For wheelchair users and carers/essential companions (carers receive 50% discount), please book directly on 01543 306150.