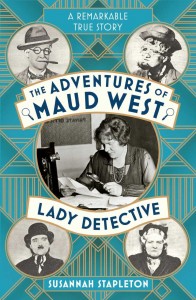 Thursday 26 March
| 6:30pm
Susannah Stapleton is a historical researcher with over twenty years' experience unravelling mysteries for museums, organisations and private individuals. The Adventures of Maud West, Lady Detective is Susannah's first book. 
Maud West ran her detective agency in London for more than thirty years, having started sleuthing on behalf of society's finest in 1905. Her exploits grabbed headlines throughout the world but, beneath the public persona, she was forced to hide vital aspects of her own identity in order to thrive in a class-obsessed and male-dominated world. And – as Susannah Stapleton reveals – she was a most unreliable witness to her own life.
Who was Maud? And what was the reality of being a female private detective in the Golden Age of Crime?
Find out as Susannah talks to festival programmer Helen Emery.
Tickets
£10
For wheelchair users and carers/essential companions (carers receive 50% discount), please book directly on 01543 306150.