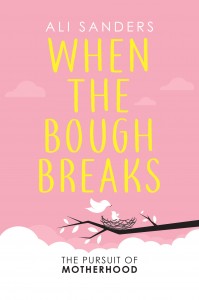 Friday 27 March
| 10:00am
Ali Sanders was happily married to her university sweetheart, and they had everything they could hope for. The next step for them was to become parents but this wasn't as easy as it seemed. Following fertility issues, and a long journey down the route to adoption, Ali discovered that she was pregnant. 
When the Bough Breaks: The Pursuit of Motherhood tells the heart-wrenching story of Ali's desperate attempts to become a mother, as she'd always dreamt, and describes how she had to learn to love her son. It is the inspirational tale of her recovery from heartbreak, postnatal depression and OCD in order to live a fulfilling family life. 
Tickets
£9
For wheelchair users and carers/essential companions (carers receive 50% discount), please book directly on 01543 306150.