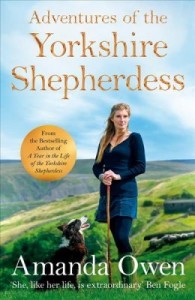 Saturday 28 March | 19:30
Lichfield Literature is very proud to present Yorkshire Shepherdess Amanda Owen, sharing heart-warming tales and honest anecdotes from her remarkable farming, family life in North Yorkshire. It's a life that has almost gone in today's modern world, one ruled by animals and the four seasons.
Hear about her journey from urban Huddersfield teenager to shepherdess, best-selling author and TV star. Inspired by James Herriot's books to leave her town life behind and head to the countryside, after working as a freelance dairy milker and alpaca shearer, she eventually settled down as a shepherdess at Ravenseat, one of the highest and most remote places in England, where she's raised a flock of 1000 sheep and a family of 9 children with husband Clive. 
Tales of her life at Ravenseat in the Yorkshire Dales are guaranteed to entertain.
Tickets
£16
For wheelchair users and carers/essential companions (carers receive 50% discount), please book directly on 01543 306150.