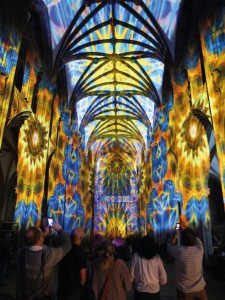 Thursday 19 August – Monday 30 August | 20.30 onwards
The Great Exhibition returns with 'SCIENCE,' a stunning visual spectacle inspired the evolution of science; exploring how it has shaped our past and the role it will play in our future.
Be transported through monumental immersive light and sound installations, as you encounter a brief history of science as never seen before. This unforgettable multi-sensory experience transports visitors through elements, molecules, DNA, and the greatest discoveries of humanity, as we contemplate the wonders that make up the world around us.
Created by, the award-winning artistic collaboration, Luxmuralis. The exhibition features internal Son-et-Lumiere, artworks, and sound and light installations that transform the internal space of the Cathedral.
Ticket prices:
£7.50 adults, £6 children (Age 3 and over), £20 family (2 adults and 2 children)
Under 3s go FREE
- Please book a FREE ticket to count towards capacity.
Please note:
- Tickets will be sold at 15-minute intervals. This is your entry time and not the start of the exhibition.
- Early entry will not be permitted but every effort will be made to allow access if you are running late. This will depend on capacity and the venue remaining COVID secure and will be at the discretion of Lichfield Cathedral.
- We anticipate the experience taking around an hour, but the exhibition can be enjoyed at your own pace.
- The experience is entirely inside the Cathedral and will be via a one way route.
- Once you have left the Cathedral there will be no readmission.
- Children under 3 go free, however a FREE ticket must be booked to count towards capacity.
- The event is both pushchair and wheelchair friendly with wheelchair and mobility friendly slopes upon entry and exit.
- There are no toilets inside the Cathedral. Toilets are near the pedestrian entrance to the Close via Dam Street.
- Refreshments will be available outside the Cathedral at the main entrance. This may vary depending on the weather.
- There is strictly no public parking in The Close and limited accessible parking (4 bays). The Close is managed by an independent parking firm. Please use close by city car parks (http://www.lichfielddc.gov.uk).
- Drop-off will be allowed for those with accessibility needs using the Beacon Street entrance.
- This exhibition includes loud sounds, music and moving and flashing images throughout the experience, as well as bright lights and areas of darkness within the cathedral
- Tickets are non-refundable other than:
- If you are able to demonstrate you have been told to isolate.
- a national or local lockdown.
- if Lichfield Cathedral cancels the event.
- Whilst masks are not mandatory, we would ask visitors to consider use upon entry.
- Hand sanitiser will be placed throughout the experience and Lichfield Cathedral would remind all visitor to use it as often as possible.
- Lichfield Cathedral do not currently expect to implement a check of COVID Vaccination status, however we reserve the right to change this view based on government advice.