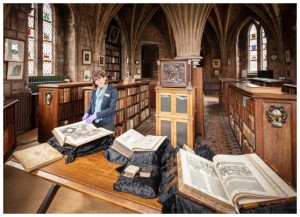 Dates throughout the year | 10:30-12:00
The Library, tucked away at the top of a spiral staircase, is one of the Cathedral's best-loved treasures. We are pleased to be able to open the library for a series of public tours this year. Climb the 35 spiral steps, see the library for yourself and explore some of our fascinating, and internationally significant book collection.
This year's tour will include books and manuscripts from the library of William Seymour, 2nd Duke of Somerset, 1588-1660, including a 1420 illuminated copy of The Canterbury Tales by Geoffrey Chaucer. Tickets
£18
You must be able to climb 35 spiral steps to take part in this tour.

Accessible tours 
This tour is designed for those unable to ascend the spiral staircase.  Tours will take place at ground level in the Chapter House.  Suitable for wheelchair users.
- Wednesday 14 September 10:30am
Candle-lit tours
This atmospheric tour takes place in the evening under LED candlelight. 
- Friday 11 November 7:30pm
- Tuesday 6 December 7:30pm