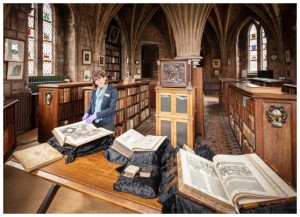 Dates throughout the year | 10:30 and 19:30
The Library, situated on the upper floor of our unique two-story Chapter House, is one of the Cathedral'sbest-loved treasures. It houses a magnificent collection of early printed books and hand-copied manuscripts. Highlights include one of only three surviving hand-coloured 16th century printed copies of Christopher Saxton's map book of Tudor England and Wales, and a manuscript set of orders signed by Charles I. Following completion of restoration and repairs to the Chapter House roof, the Library is offering a limited number of public tours this year. Climb 35 spiral steps to the historic library and view some of our best books and manuscripts.
Tickets
£18
You must be able to climb 35 spiral steps to take part in this tour.