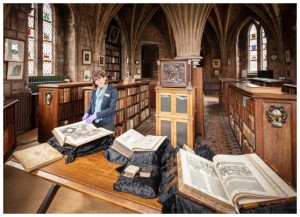 Dates throughout the year 
Climb the spiral staircase to see one of the Cathedral's best loved treasures, the Library, for yourself and explore some of our fascinating collection.
In 2023 we investigate 'Journeys and Exploration', a chance to discover how our understanding of the world and local area has changed through the centuries.
Take a journey from Staffordshire around the globe, delve into beautifully illustrated map-books and charts, and uncover insights from James Cook's voyages
Tickets
£18
You must be able to climb 35 spiral steps to take part in this tour. Limited seating is available in the library and participants should be prepared to stand for the duration of the tour.