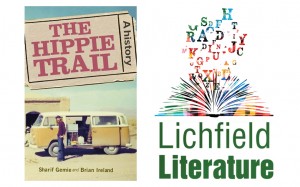 This is the first history of the Hippie Trail. It records the joys and pains of budget travel to Kathmandu, India, Afghanistan and other 'points east' in the 1960s and 1970s.
Dr Sharif Gemie is a historian of modern Europe. He has mainly researched on minority peoples, including refugees, Muslims in Europe, Bretons and Galicians.
Here, he shares his analysis of the motivations and the experiences of hundreds of thousands of hippies who travelled eastwards and highlights key questions: were the travellers simply motivated by a search for drugs? Did they encounter love or sexual freedom on the road? Were they basically just tourists? Did they resemble pilgrims?
Represented in many different guises for film and literature over the years, this is the real story of this iconic movement of 1960s counterculture.
​
Friday 8 March
11:45
​
Tickets
£10 (Carer and Essential Companion £5)