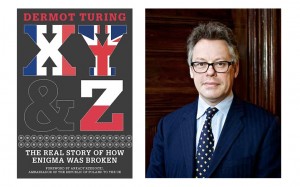 Drawing on recently declassified archives, the nephew of Alan Turing tells the real story of how Enigma was broken and celebrates the early work of the Polish codebreakers which lead to the joint efforts of international secret services during WWII.
X, Y & Z is the story of how French, British and Polish secret services came together to unravel the Enigma machine. It tells of how, under the very noses of the Germans, Enigma codebreaking continued in Vichy France and how code-breakers from Poland continued their work, watching the USSR's first steps of the Cold War.
The people of X, Y and Z were eccentric, colourful and caught up in world of events that they could watch not control. This is their story…
Dermot Turing is the author of Prof, the acclaimed biography of Alan Turing. He is a trustee of Bletchley Park, has extensive knowledge of World War II code-breaking and is a regular presenter at major cryptology events, most recently presenting at the US National Security Agency's Center for Cryptologic History.
Saturday 9 March
13:30
Tickets
£10 (Carer and Essential Companion £5)