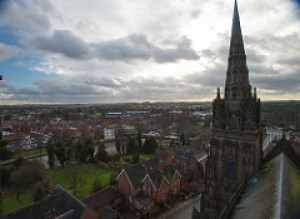 Following the need for conservation work on the central spire, we are pleased to introduce an alternative to our popular tower tour.
The new Hidden Heights tour will explore walkways through medieval beams and rooftop parapets which are not normally open to the public, where you can enjoy views over Lichfield and the surrounding countryside.
Tours last approximately one hour.
Please note the terms and conditions.
Tours are subject to cancellation in adverse weather conditions.
The tour is open only to adults and children 8 years old and over.
Children under the age of 16 must be accompanied by a responsible adult.
The visit is unsuitable for anyone who suffers from heart or respiratory disorders or any medical or other condition (including pregnancy) which could be adversely affected by the climb.
Everyone taking part in the visit must have both hands free for the climb of 90 spiral steps to the roof.
All baggage must be left at ground level.
Sensible, sturdy footwear must be worn. No flip-flops, high heels, slippers, etc. For your own safety, you will not be allowed to climb if you are wearing inappropriate footwear.
Dates from April to AugustTickets 
Adult £8.00, Child (over 8 only)  £5.00