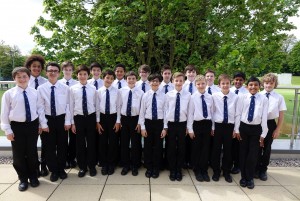 Wednesday 24 April | 19:30
Trinity Boys Choir is one of the busiest and most successful boys' choirs in the world. The choir is especially well known for its role in Benjamin Britten's 
A Midsummer Night's Dream
, having appeared in over 150 professional performances of the opera, and is regularly invited to perform at the BBC Proms. The boys can also be heard on the soundtracks of numerous films, including Disney's 
Maleficent
, 
The Hunger Games: Mockingjay 1
 and 
Mockingjay 2
, 
The Nutcracker and the Four Realms
 and in 
Fantastic Beasts 1 and 2
.
Don't miss this rare opportunity to hear them perform in concert at Lichfield Cathedral. The choir will be performing a selection of beautiful British folk songs, including arrangements by Benjamin Britten.
Tickets are £10. 
Six English Folksongs                                                 
David de Warrenne
The Salley Gardens
Little Sir William
The Bonny Earl O'Moray
O can ye sow cushions                                               
Benjamin Britten
Four British Folksongs                     
                           Peter White
INTERVAL
The trees they grow so high                                       
Benjamin Britten
On a Summer's Morn (Four British Folksongs)          
Grayston Ives
The Ash Grove                                                          
 Benjamin Britten
Lavender's Blue
The Skye Boat Song
Oliver Cromwell                                                          
David de Warrenne