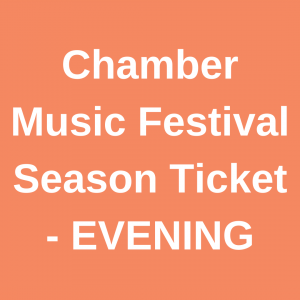 The season ticket enables you entry and a reserved seat at all of our
Evening
Chamber Music Festival events:
HUW WIGGIN saxophone & OLIVER WASS harp, CARDUCCI QUARTET, 
 JO
O YEON SIR violin & IRINA ANDRIEVSKY piano,
 BRITTEN OBOE QUARTET.
Once purchased, a member of our team will be in touch with details of entry and seat reservation (please note this will be close to the Festival, once full season ticket holders have been allocated a reserved seat).
In your order you will receive a 'ticket' with the wrong date/time but please ignore this as you will be sent an official 'season ticket pass' at a later date.