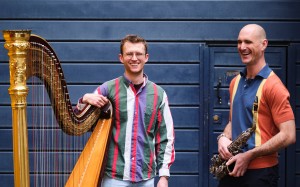 Thursday 5th October | The Hub at St Mary's | 7.30pm - 9.30pm
Since forming their duo in 2016, saxophonist Huw Wiggin and harpist Oliver Wass have continued to develop and refine their programmes of music for this unusual pairing of instruments, developing a reputation as warm communicators who draw audiences into their intimate and engaging performances.
Festival favourite and former Young Artist, Oliver Wass, trained at the Guildhall School of Music & Drama and became the first harpist ever to win the Guildhall Gold Medal – its most prestigious prize – in 2016. Among his many awards and prizes are the Suoni d'Arpa International Competition in Italy, the Jury Prize at the International Harp Competition in Szeged, Hungary, and Second Prize at the Bromsgrove International Competition.
Huw Wiggin has become one of the most popular saxophonists of his generation, since winning the First Prize and Gold Medal at the Royal Over-Seas League Annual Music Competition in 2014. He now performs across the world and is a professor of saxophone at the Royal Academy of Music, as well as being a member of the prize-winning Ferio Saxophone Quartet.
Their programme will feature original duo pieces and their own bespoke arrangements of works by J.S. Bach, Ravel, Debussy and De Falla.

Kindly sponsored by Jill Sutton