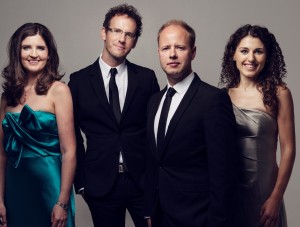 Friday 6th October | The Hub at St Mary's | 7.30pm - 9.30pm
Returning to the Festival for the first time since their 2018 residency, the internationally renowned award-winning Carducci String Quartet has performed everything from brand new quartets, classic works by Haydn, complete Shostakovich cycles, and even partnered with folk-rock icon Ian Anderson of Jethro Tull. Founded in 1997, the ensemble has won numerous international competitions, including Concert Artists Guild International Competition USA 2007 and First Prize at Finland's Kuhmo International Chamber Music Competition 2004. In 2016, they took home a Royal Philharmonic Society Award for their performances of cycles of the complete Shostakovich Quartets.
The quartet has released a bevy of acclaimed recordings on their own label, Carducci Classics, as well as Signum Classics, and their Naxos recordings of Philip Glass Quartets have had over six million plays on Spotify.
For their Festival Chamber weekend debut, the quartet will play Mozart String Quartet No. 17 'The Hunt', Beethoven String Quartet Op. 59, No.2 and Dvorak Quartet No. 12 (his 'American Quartet').
Kindly sponsored by Nigel O'Mara