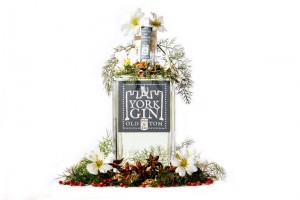 We are very lucky to be able to offer an exclusive experience for a small number of discerning customers - a combination of some of the best food and drink in the city.  York Gin, who hand make award winning gins in the city, along with the Star Inn the City, one of York's finest restaurants, invite you to sample their first class products at this very special event.
You will sample gins fresh from winning prizes at this year's San Francisco World Spirits Competition with a selection of quality tonics and botanicals. Alongside this you will enjoy fine canapes made by the Star Inn's renowned chefs from the best seasonal Yorkshire produce.
This event will be in the delighful private dining room upstairs in the old Lendal Engine House. It is up about 15 stairs, however all facilities can be found close by without going downstairs to the public restaurant. Canapes will be made from the best meat, fish and vegetables according to the season. Customers can request vegetarian-only choices - please select the relevant ticket so the chefs know to make enough veggie canapes.
Tickets are £40 per person, for which you will enjoy the highest quality food and drink, a very special environment and very good company. I hope you will join us. 
Tickets available on this site until 29 October unless sold out earlier. This is to enable the chefs to order the necessary ingredients, and of course to allow our lovely gin-makers to bring enough for us all.