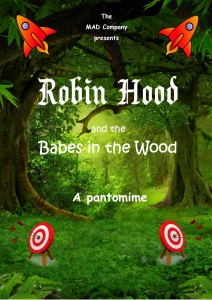 This year's pantomime is the story of "Robin Hood and the Babes in the Wood."
King Richard has gone off to fight in the crusades and his wicked brother Prince John has taken over the throne. Together with his henchman, the Sheriff of Nottingham, he plans to rule England. Our hero Robin Hood is fighting back and helping the villagers to survive.
Along comes Nanny with her two charges, Jane and Michael, they are a threat to the Sheriff!! New Merry Men are recruited with hilarious results.Of course confusion ensues. But will Robin save the children? Will he marry Maid Marion? Come along and find out.
Friday 21st February 2020 at 7.30pm
Saturday 22nd February 2020 at 3.00pm & 7.30pm
Sunday 23rd February 2020 at 3.00pmTickets
 £12 Adult, £8 Child