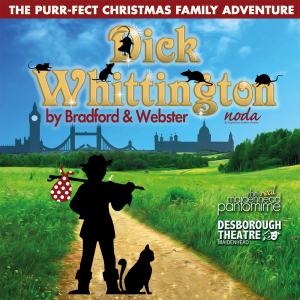 Dick
travels to London to seek his fortune
(Hooray!!)
but is met on the way by the evil
King Rat
(Boo!!)
who, with his army of rats, is looking to thwart Dick's plans and take over London and then the world.
King Rat didn't account for
Tom
, the coolest cat around. Tom and Dick, together with
Sarah the Cook, Idle Jack, Alderman Fitzwarren
, and not forgetting the beautiful and hopelessly lovestruck
Alice
, set off on an adventure over high seas and strange lands.
Can Tom, Dick and the gang beat the evil, despicable, nasty, vile, devious, lying, smelly, loathsome, wicked and basically not very nice King Rat and win the day? Who knows???
We do know we need your help to cheer Dick and Tom and to boo everything that looks that looks like a rat!
Wednesday 11th - Friday 13th December at 7.30pm
Saturday 14th & Sunday 15th December at 12.00 and 4.00pm.

Tickets: £12 Adults, £10 Children
Bring a Family of 4 for just £40!
Discounts available for groups of 10 or more. Please contact the Box Office 07375 111174 for details.


Please also contact the Box Office for assistance with wheelchair access.
Please note that there is now only disabled parking at the Desborough Theatre. Local car parks are available at Grove Road SL6 1SQ and the Nicholsons Centre SL6 1NT
Book
Venue Desborough Theatre
Park Street
Maidenhead
SL6 1RF