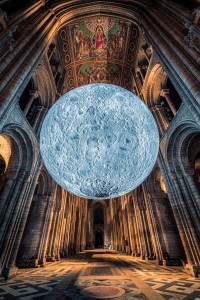 Museum of the Moon is a touring artwork by UK artist Luke Jerram.
  Measuring seven metres in diameter, the inflated moon features 120dpi detailed NASA imagery of the lunar surface. At an approximate scale of 1:500,000, each centimetre of the internally lit spherical sculpture represents 5km of the moon's surface.
To find out more about the artwork, its creation and research, see  
About (my-moon.org)
Entry to installation is timed - but not limited to 15 minutes -  people generally stay betweeen 10-40 minutes
Suitable for all - children must be accompanied
Accessible venue 
Disabled parking for blue badge holders ONLY -  Your booking confirmation explains how to contact us to reserve a space.
Otherwise 5-10 minutes walk from town centre parking
Masks recommended
Museum of the Moon has been co-commissioned by a number of creative organisations brought together by Luke Jerram and Norfolk & Norwich Festival. These include: 
Greenwich+Docklands International Festival , WeTheCurious, Lakes Alive, Provincial Domain Dommelhof, Brighton Festival, and Les Tombées de la Nuit, Rennes. The artwork has also been created in partnership with the UK Space Agency, University of Bristol and The Association for Science and Discovery Centres. The artwork is part of the European INSITU and Without Walls networks.