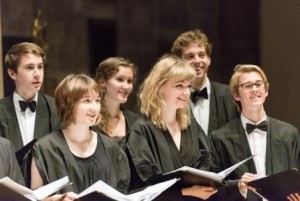 One of the leading university choral groups of the world will be performing an appealing selection of seasonal music.
Recently, the Choir has given well-received performances of Bach's
St John Passion
, Handel's
Dixit Dominus
and Rossini's
Petite Messe Solennelle
; participated in the BBC Proms as part of the University's 800th anniversary celebrations; and recorded broadcasts from BBC TV and Radios 2,3 and 4. The Choir also has a rapidly expanding discography. They have been praised by The Times for their "energy, verve, immaculate tuning and beguiling tone", and we look forward to welcoming them to MGS.
Monday 5 December 2016
7.00pm
Memorial Hall
Tickets £10 and £5 (concessions)