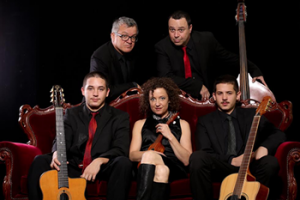 Get festive at the Milton Theatre this Christmas season! Come and enjoy a night of spirited sounds with George Washingmachine's gypsy jazz ensemble 'Feel the Manouche'.
'Manouche' is a term derived from the Romany gypsies of Europe, describing what we call gypsy jazz - a sound made famous in the 1930s by French legends and founders the 'Hot Club' sound, Django Reinhardt and Stephane Grapelli.
Lead by the inimitable George Washingmachine, Feel the Manouche finds its origins in gypsy jazz but also encompasses a world music feel. With double bass, guitar, accordion, and fiddle, the band serves up magnetic, melodic grooves that take on gypsy waltzes, swing jazz and many other flavours of music from our diverse planet.
Having just released their latest album "The Moon has Left Town", Feel the Manouche have played shows aplenty in Sydney and along the East Coast, as well as the Waiheke Island Jazz Festival in New Zealand, the Thredbo Jazz Festival, and the Bellingen Festival.
We are delighted to have Feel the Manouche visit Milton - their eclectic and toe tapping show is not to be missed. Feel the Manouche features: George Washingmachine (violin, ukelele and vocal),
Arthur Washington (guitar), Jerry Washington (guitar), Clare O'Meara (accordion, violin and vocal) and Stan Valacos (double bass).
Dress code: strictly Paris, 1930s.
Friday12 December 2014 - 8:00pm
Tickets $34
Phone orders call Country Leather, Milton 4455 3056