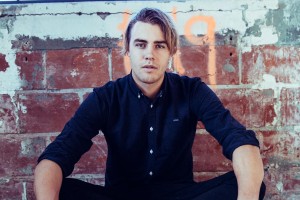 Hein Cooper Hometown Debut Album 'The Art of Escape' Launch with Special Guests
The last twelve months saw Hein Cooper gain some pretty amazing achievements: two singles on triple j, spins on the BBC, performed at Falls Festival amongst others, record deals across three continents, the best part of a year crossing the globe playing festivals from the UK to Canada, a successful tour of France, and the release of his current single, the breezy slice of summer acoustic pop 'Rusty'. Now, Hein has landed back in Australia to announce the release of his debut album 'The Art of Escape' (which will be available on March 4) and an extensive 16 date tour across the country.
Hein has currently been touring stadiums across Australia supporting UK troubadour James Bay and continues life on the road playing a bunch of great headline shows, as well as a national tour with local folk star Patrick James taking him from WA to QLD, before heading back overseas to do it all over again for the European and Canadian release of his record. The album was recorded in Canada with producer Marcus Paquin (Arcade Fire, The National, The Local Natives), bringing out a fresh and genre bending take on the genre. Not afraid to mesh acoustic with electronic and equally proficient in both lush and stripped back moments, the album is an accomplished start for the young artist who embraces light and shade in equal measure.
"I often struggle with the state of the world and how society functions in such a cold and divided way," said Hein. "But what hurts me most is the way so many people seem to bury these feelings and glue a false sense of happiness to themselves rather than confront the way they actually feel. I'd rather be authentic in my sadness than false in my happiness." "I based 'Rusty' on this idea. I found that creating a positive happy sound underneath melancholic lyrics captured this feeling because it represented the fight between me and the world's obsession to be happy all the time. Kind of like the opposite of Coldplay's technique in 'Parachutes' of writing positive lyrics with a melancholy sound."
Celebrating the release of 'The Art Of Escape', Hein Cooper returns to his home town of Milton for a special launch with full band at Milton Theatre.
Wednesday 23rd March 2016 - 8:00pm
Tickets $29
Special Guests - Josh Rawiri + Grace Pitts
Phone orders call Country Leather, Milton 4455 3056