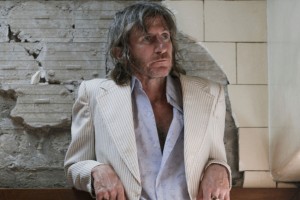 Whilst You Am I are bogged down in negotiations about a new group haircut Tim Rogers has recorded his seventh secessionist recording "An Actor Repairs" and pleads for your attention as he once again confuses hubris for artistry. For your affection he will be playing songs from twenty-eight years of recordings with accompaniment by extraordinary musicians who should know better.
Whether as part of You Am I or as a solo artist, Tim Rogers has received 13 ARIA Awards, including Best Male Artist, Best Group, Best Independent Release and Album Of The Year.
As the frontman of You Am I, one of the essential Australian rock n' roll bands, Tim Rogers has released 10 studio albums, three of which have debuted at number one in consecutive order – 1995's Hi Fi Way, 1996's Hourly Daily and 1998's #4 Record – with the records receiving ARIA Awards and multiple platinum and gold status for commercial sales.
In addition to You Am I, Tim Rogers has released critically acclaimed solo albums, and a number of collaborations with fellow musicians including Tex Perkins, The Temperance Union and The Bamboos.
With a career now motoring along in its third unique decade, Tim Rogers remarkable resume encompasses the world of Music, Film, Television and Stage. Tim's acting credits include one of his most notable role's in the 2013 musical/thriller film "The Boy Castaways" – which featured Rogers and fellow Australian musician Megan Washington. Tim also appears alongside Mia Wasikowska in the feature film "Tracks". He has also performed significant roles on television and in theatre.
Tim Rogers has stood in front of 50,000 screaming rock fans, but is just as at home playing an acoustic guitar and joking with the locals in a community run country town venue.
Saturday 6 May 2017 – 8:00pm
Tickets
$39
Support:
Steve Smyth
Phone orders call Country Leather, Milton 4455 3056