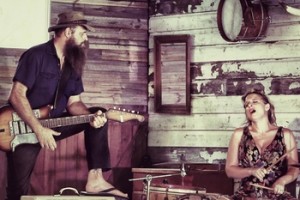 Don't be mistakin' Hatfitz and Cara for a dainty duo. Hat Fitz is a "veteran" wild-man of the blues scene in Australia. He has a record 18 straight appearances at Byron's East Coast Blues and Roots Festival, a record that is not likely to ever be broken, and one which bears testimony to his amazing live performances and popularity with festival goers. Cara draws on her soul background - she's toured Europe and the United States with Jamiroquai and the hugely popular Corinne Bailey-Rae. Although blessed with a sensational voice (she was named Female Blues Vocalist of the Year in 2015 at the Australian Blues Awards) she was not content to be labelled as 'just a singer'. Cara has taken to drumming duties as well as washboards, flute and tin whistle, sometimes all at once.
Together they are festival favourites throughout Canada, Australia, Europe, and the UK and it has been said they pack more energy into one song than most have in an entire career. A unique combination of hill-style Gospel blues with old timey flavourings and stripped down to just voices, guitar and vintage drums, Hat Fitz and Cara embellish impeccable rootsy originals with soulful vocals reminiscent of a time once forgotten.
Their fourth album,
After The Rain
(out November 4) has a unique vintage sound that these two have created themselves yet it is packed with a modern punch that cannot be denied once seen live. "Doing It Again" is the first single from the new LP. Engineered, produced and mixed by the well-respected Govinda Doyle who was behind, the No. 1 single "Big Jet Plane" for Angus and Julia Stone, this track is a romping, stomping peek inside a relationship holding strong through all kinds of weather.
"Rhythmic and groove-laden, and possessed of some fantastically intricate guitar work, 'Doing It Again' is Hat and Cara in vintage form - always with an eye on the past, but very much moving forward."
(Samuel J Fell, Rhythms Magazine)
Don't miss Hatfitz and Cara's return to the Milton Theatre these summer holidays.
Thursday 26th January 2017 – 8:00pm
Tickets
$30
Support:
Special guest
Jeremiah Johnson
Phone orders call Country Leather, Milton 4455 3056