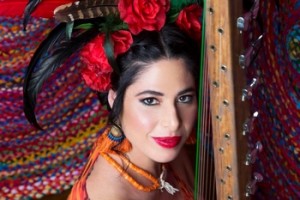 One of Australia's most unique musical talents, Miriam Lieberman, is set to launch her stunning new album Full Circle with a national tour, including a show at the Milton Theatre. Described as a kind of renaissance woman, her blend of western pop and earthy African rhythms weaves a very special musical magic for your ears.
With her new album Full Circle, Lieberman and her trio have seamlessly fused the lilting harmonies of the kora – a 21 stringed West African Harp – with classical strings and a western folk/pop sensibility. The result is a beautiful, exotic musical journey from Sydney's seascapes to the bustling streets of Mali and beyond. Lieberman's rich, soulful voice takes listeners through an exploration of love, feminism, and the light and shade of human experience. The album also features producer and multi-instrumentalist Josh Shuberth (producer for the likes of Josh Pyke, Alex Lloyd, Tim Freedman).
The talented songwriter's last album, Birds of the Moon, was critically acclaimed both in Australia and overseas, receiving radio play on Radio National, Triple J and becoming a finalist in the Australian Independent Music Awards.
The trio has toured extensively at major festivals and events around Australia including Woodford Folk Festival, The National Folk Festival and Global Rhythms.
Lieberman's Full Circle tour is set to enchant audiences again. It sees Lieberman reunite with violinist Lara Goodridge (Four Play/Baby et Lulu) and cellist Kate Adams, who add sublime string arrangements and vocal harmonies. Don't miss the chance to see this incredible artist and be swept away by her mystical melodies at the Milton Theatre.
'Miriam has a knack for giving her songs a feeling of significance, even while they float with effervescent pop pleasure.'
- 4 stars – The Age 2014
Saturday 18th February 2017 - 8:00pm
Tickets
$27
Phone orders call Country Leather, Milton 4455 3056