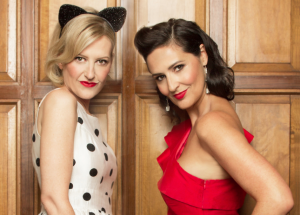 'Baby' (Abby Dobson - Leonardo's Bride) and 'Lulu' (Lara Goodridge - FourPlay) make beautiful music together with a selection of classic and contemporary chansons and their own original compositions written in French. Baby et Lulu expérience fantastique!
A truly magnetic musical partnership which has been seducing audiences since their debut release, much loved artistes Abby Dobson and Lara Goodridge recorded a second selection of classic and contemporary chansons, as well as, for the first time, a number of their own original compositions written in French. Baby et Lulu have enjoyed a new found poetic freedom in writing in the language they both love so much.
Perhaps best of all – for both audience and duo – Baby et Lulu allows Abby and Lara the exhilaration of stepping into two sassy and playful characters in a veritable celebration of la vie française. A heady combination of feminine couture - from elegant to va va voom, seductive and witty banter, romantic chansons sung exquisitely in French, and the extraordinary musicianship of the band, leaves them and their audiences, enraptured. It is no surprise then, that Baby et Lulu continue to attract new devotees at their festival appearances (including WOMADelaide, Adelaide Cabaret Festival, Melbourne Festival, Port Fairy and Blue Mountains Music festivals) and sold-out club shows across Australia.
Whatever the French connection and inspiration, it's not hard to be swept away by the irresistible fun and folly which takes place whenever Baby et Lulu make beautiful music together. Voices that blend so beautifully, romance and seduction expressed so intelligently and humorously – these are rare commodities rightfully turning heads everywhere, and 'Album Deux' promises the adventure will continue.
"Très charismatic pairing of sexy songstresses."
The Australian
"Two lovesick songbirds in a melancholic pas de deux. Superb."
Australian Stage
"It is impossible not to be charmed by the hypnotic voices of Baby and Lulu."
Arts Hub
"Lara and Abby combine their amazing talents in an explosion of French chic."
Alt Media
Full band line up:
Abby Dobson – Vocals
Lara Goodridge - Vocals, Violin
Mark Harris – Bass
Julian Curwin – Guitar
Matt Ottignon – Saxes
Marcelleo Maio - Keyboards/Accordion
Saturday 25 March 2017 - 8:00pm
Tickets
$42
Phone orders call Country Leather, Milton 4455 3056