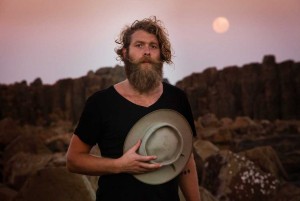 Originally hailing from the South Coast, Steve Smyth is a singer-songwriter best described these days as a world citizen. This talented flâneur cantor has weaved his way from the Americas, Europe, Arabia and Asia to all edges of Australia; from deserts to coasts, skylines to river runs, club caves to church halls, and he now resides in Barcelona. Having toured nationally and internationally with the likes of The Killers, Angus and Julia and Lanie Lane, from the smallest hole in the wall to the grandest theatre, Steve Smyth IS the show, and in March he will return to the Milton Theatre.
His live performances have to be experienced to be believed. Steven Smyth is one of those artists who draws you in even before you've heard him perform. There seems to be an energy that clings to him which reaps mystery and a deep, honest passion. And when you see him perform you feel like he's conveying a million conversations, a million experiences filled with heartache, love, excitement… And he delivers his songs with pure honesty and an unconscious bliss.
"Steve Smyth could sing me my will or the phone book and I'd still fall apart"
- Tim Rogers of You Am I
Support TBC
Saturday 24th March 2018 - 8:00pm
Tickets
$30
Phone orders call Country Leather, Milton 4455 3056