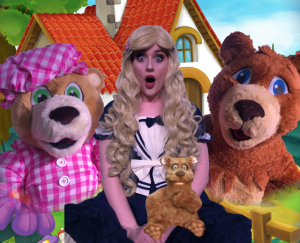 Goldilocks and the Three Bears
A magical adaptation of the classic fairytale. Based on the traditional children's tale about a young girl's mischief in Mummy Bear and Daddy Bear's home. You know the story it's all about Beds and Chairs and Porridge and Mummy Bear, Daddy Bear and of course baby bear!
A brand new pantomome from Garry Starr Pantomimes.
Christmas Pantomime for children of 3 years old to 93 years old.
Tickets on sales from 22nd Sept 2019Saturday 14th December 2019
 - 2pm and 4:30pm
Tickets
 on sale from 14th September £14.00 Adults / £9.50 Under 17s
Earlybird Booking
Bonanza until midnight Sunday Nov 3rd £12.00 adults / £8.00 Under 17s