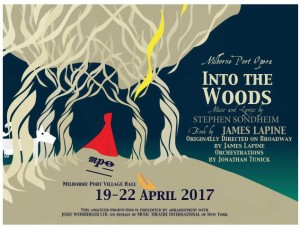 Milborne Port Opera presents Stephen Sondheim's and James Lapine's "Into the Woods" at Milborne Port Village Hall on 19-22 April 2017. 7.30 pm. A wonderfully imaginative take on all those fairy stories - Little Red Riding Hood, Jack and the Beanstalk, Rapuznel and Cinderella. Anything can happen when their stories intertwine in the dark mysterious woods! All set to Sondheim's spellbinding music and performed by the award-winning MPO.
If you go down to the woods tonight... prepare to be entertained!
Wednesday 19 to Saturday 22 April 2016 7.30 pm

Tickets
£12 with £10 concessions on Wednesday only.
Book Now! Don't forget to tell your friends you are coming by clicking the Facebook link Seats are unreserved - sit anywhere.