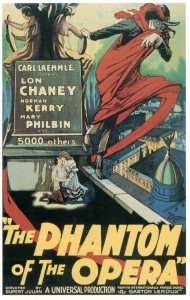 An evening of film entertainment with Donald MacKenzie at the console of the Willis organ.
International virtuoso organist Donald MacKenzie improvises a live soundtrack to the 1925 version of The Phantom of the Opera.Saturday 9th October 2021 - 7:30pm

Tickets
 Adults £10, Under 18s Free
Some tickets will be available for sale at the door on a first come first served basis.
Wine, juice, popcorn and ice cream will also be for sale.
Before the movie, Donald plays a selection of lighter organ music and gives a personal introduction to the film.
Lon Chaney stars as the deformed phantom who haunts the Paris Opera house and causes death and mayhem in his pursuit of making Christine, the singer he loves, a star. The film also features Mary Philbin as Christine, Norman Kerry as Raoul the man she loves, Virginia Pearson as the singer Carlotta and Arthur Edmund Carewe as Ledoux a secret policeman in the trail of the phantom. A masked ball, a crystal chandelier, catacombs and Lon Chaney's self-devised make-up all add to the atmosphere!