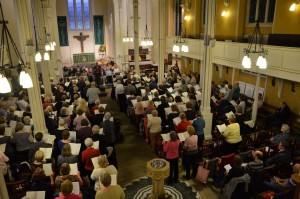 Haydn's greatest Mass, written towards the end of his life, cemented his friendship with a British hero. Come and be part of a large and glorious chorus in Haydn's 'Nelson Mass' which some musical authorities consider to be his finest single choral work.
Saturday 11 November at St Mary & St Giles Stony Stratford: Registration from 09.15; Rehearsals 10.00- 16.00 (with breaks); Performance 16.30
Singer tickets £18
(concession rate for full time students and job seekers only: £9) Singer tickets include score hire and tea/coffee and cake throughout the day.
Audience tickets £3
(concession rate for full time students and job seekers only: £0 but ticket required)
Music for All @ SMSG warmly invites you to our fifth great Come & Sing day! Singers who've been before will know how inspirational, and how much fun, these days are (and how great the refreshments are!). Newcomers are most welcome too – you'll be in for a real treat of a day. All funds raised will go to support the future maintenance of the restored Willis pipe organ, so that it always sounds as good as it will on this day!
The work:
Haydn's chief biographer, H. C. Robbins Landon, has written that this Mass "is arguably Haydn's greatest single composition". Written in 1798, it is one of the six late Masses for the Esterhazy family. This was a terrifying time - Napoleon had won four major battles with Austria in less than a year - and Haydn's own title for the work was
Missa in Angustiis
(Mass for troubled times). What he did not know when he wrote the Mass, but what he and his audience heard (perhaps on September 15, the day of the first performance), was that Napoleon had been dealt a stunning defeat in the Battle of the Nile by Admiral Nelson. Because of this coincidence, the mass acquired the nickname
Lord Nelson Mass
. The Mass is in six movements: Kyrie (Lord have mercy), Gloria (Glory to God in the highest), Credo (I believe), Sanctus (Holy), Benedictus (Blessed), Agnus Dei (Lamb of God). It lasts around 40 minutes. We will be singing it with an organ accompaniment.
Conductor, Organist and Soloists: Jonathan Kingston (conductor)
is Director of Music at St Mary & St Giles (from September 2017) and well-known as a lively and entertaining event leader. He has previously been deputy organist at Ely Cathedral and assistant Director of Music at Stowe School, Bromsgrove, and The Kings School Ely. He performs with leading orchestras and is a senior examiner with ABRSM and RSM.
Stuart Miles (organist)
teaches part-time and is a freelance organist. Most of his teaching career was spent in London schools, the Royal College of Music and The University of London Institute of Education. Solo parts will be performed by
Claire Turner, Emma Westley, Peter Eales, Simon Woodhead.
Location
The church has wheelchair access and facilities. Stony Stratford has plenty of good shops, plus cafes and pubs to pop out to at lunchtime or afterwards, and free parking all around the town
www.stonystratford.co.uk
Timetable: Registration
is from 09.15 (tea and coffee available at the church),
rehearsal in four sessions
from 10.00 am – 4.00 pm with breaks. Informal
45-minute concert performance at 16.30
; audience will be most welcome.
Booking Ahead
is essential for all singers (audience can book ahead or pop in on the day). Tickets for singers are available by voice part. It will be a popular day and we encourage people to sign up soon! Soprano and alto voice tickets tend to go fast – book as early as you can and encourage a tenor or bass to come with you! This will make sure we have a reasonable balance. Booking will close on
Wednesday 08 November
to give us time to manage the waiting list, seating plans, labels and scores. We know that many people like to book together, so we've made ticket buying as simple as possible.
Learning Resources
You need to be able to sight-read music well enough to cope with singing the full Mass in one day – however, it's a day to have fun learning together and to do our best, not to polish a perfect performance.
- To listen
: this file will let you listen to the Mass – our performance won't be the same as this, but this file gives you a clue as to what each movement sounds like and how the Latin is pronounced.
https://www.youtube.com/watch?v=7EiefC0eesc
- To look at the score
: this free file gives you access to a public domain score; this is NOT the version we will use on the day so treat it as a guide. We will be singing from a Novello edition on the day; hire of the correct score is included in the ticket price for singers.
http://www1.cpdl.org/wiki/images/5/53/Haydn-Nelson_Mass_Choral_Latin_Only.pdf
- To hear the notes of your part:
John Fletcher sound files can be found on his site, which provides part files (soprano, alto, tenor, bass) for a vast range of choral music including the Haydn we're singing. You may need to register (Choose 'Free'). Then you need to logon to the site to choose 'Haydn Nelson Mass'. What you will hear are sound files played on clarinets. The voice part chosen is enhanced so that it is louder than the rest. There are no words, just the notes.
https://johnfletchermusic.org/?s=haydn+nelson+mass
Further information and queries
: If you have any queries, please do contact the Come & Sing team at come&sing@musicforallsmsg.org