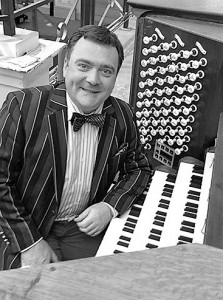 An evening of film 'comedy shorts' with Donald MacKenzie at the console
International virtuoso concert organist Donald MacKenzie improvises a live soundtrack to a selection of comedy short films with Laurel & Hardy, Charlie Chaplin and Monty Banks and plays light organ pops.
Watch hair-raising moving train stunts through your fingers with
Monty Banks
in
Chasing Choos Choos
, laugh out loud at roller skating waiter
Charlie Chaplin
in
The Rink
, and dodge as
The Two Tars
Laurel & Hardy
get into a car chase in a traffic jam.
Saturday 8th September 2018 - 7:30pmTickets 
Adults £10, Under 18s Free
Wine, Juice, popcorn and ice cream will also be for sale.
Before the movies, Donald plays a selection of lighter organ music and gives a personal introduction to the films.