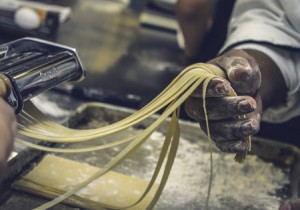 Friday 15 May 2020, 7-9.30pm
£18 per person to include a bottle of Italian beer or soft drink
Please note that if you book two or less tickets to this event, you may be seated on a larger table with other guests.
Join us for a mouth-watering Italian food extravaganza. Chefs at
Star
Bistro will be preparing a sumptuous Italian food buffet featuring an array of pasta dishes with a selection of sauces, salads and sourdough pizza. Joe, our resident Italian food specialist, spent some time living and honing his culinary skills in Italy so expect a night to remember.
Italy is a nation of food lovers and it is common for many villages, towns and regions to have developed a way of cooking that is special to the area. Sauces, pastas, wines, cheeses and breads differ not just from region to region, but from town to town. The
StarBistro
team will be mixing new ideas with old and creating dishes with the freshest ingredients available.
Italian Evening Menu
Mix and match pasta 
Choose from conchiglie, rigatoni and gnocchi (CG)   
Add a sauceRagu di Manzo Cotto Lentamente 24 Ore 
24-hour slow cooked beef ragu
Carbonara vegetariana
(D)
Parmesan and pecorino cheese sauce
Sugo all'arrabbiata
Roast red pepper, chilli and garlic sauce
Carbonara Vegetariana
Parmesan and pecorino cheese sauce
PizzaPizza Margherita a Lievitazione Naturale
Fresh sourdough pizza with tomato, mozzarella and fresh basil
Extra toppings
Fresh basil and pine nut pesto (D)(V)(S)
Crispy smoked pancetta
Ricotta and lemon zest (D)
Chilli oil
On the side
Torn baby gem, caesar dressing, sourdough croutons, parmesan shavings (D)(CG)(V)
Caprese style mozzarella, tomato and basil finished with balsamic syrup (D)(V)
Garlic and herb butter-infused focaccia (CG)(D)(V)
Please advise us of any special dietary requirements at the time of booking.