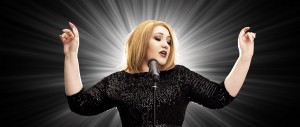 J'Adele is voted the UK No.1 Best Live Tribute to Adele. Having sung in over 60 countries across the globe to tens of thousands of people, Christina Rogers brings you a tribute to this star like no other.  
Multi-award winning Adele has taken the world by storm with mega hits such a Hello, Someone Like You and Rolling in the Deep. You'll be sure to hear and no doubt sing along to your favourite Adele anthems- you may even find yourself dancing in the aisle!  
With remarkable attention to detail, J'Adele will provide you not only with dazzling songs both intimate and epic, but in this true representation, you'll experience the hair, nails, dresses, a sprinkling of Adele charm, and most importantly… that iconic voice.  
"Amazing!"
Adele