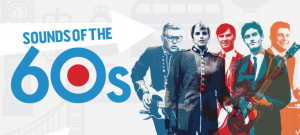 Geoff Endacott presents: The Zoots
The Zoots are coming and they're bringing the Sounds of the 60s. Experience the show that's wowing audiences around the world, selling out and headlining venues from the Palladium to Old Trafford, with the spectacular sound of The Zoots.
The Zoots are here to make your whole family bop to the 60s beats that everybody loves - with legendary numbers by The Beatles, The Rolling Stones, The Monkees, The Beach Boys, The Kinks, The Searchers, The Four Seasons, Elvis and dozens more of your favourite artists. Feel the groove that's thrilling audiences of stage and screen, in more than thirty countries! Discover why national critics call The Zoots "impressive," "authentic" and "impossible not to like!"