Flanders and Swann: At the Drop of a Hippopotamus at St Andrew's Church, Chippenham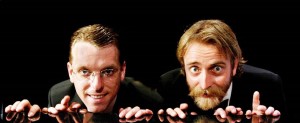 Geoff Endacott Presents: Flanders and Swann - At the Drop of a Hippopotamus
In 2001, multi-award winning comedian Tim FitzHigham and BBC Radio 4 musical maestro Duncan Walsh Atkins took to the stage in a theatre in Sussex to raise money for a small cottage hospital and Flanders and Swann - At the Drop of a Hippopotamus was born.
The Masters of 1950s and 1960s madness, mirth and total silliness – Michael Flanders OBE and Donald Swann are paid affectionate tribute to in this evening of their words and music. Mud, Mud Glorious Mud (The Hippopotamus Song), The Gnu Song, Madeira M'dear, The Gasman Cometh, and many of their other songs have passed into legend along with the duo's anarchic sense of humour, wordplay and fun. With generous support from the estates of Michael Flanders and Donald Swann, At the Drop of a Hippopotamus continues to go from strength to strength.
Over the years, Tim and Duncan have embarked on the largest Flanders and Swann tour since Flanders and Swann toured in the 1960s, playing to the largest Flanders and Swann audiences since the great pair played The Theatre Royal, Haymarket in the 1950s, headlined the International Flanders and Swann festival in Donald Swann's house, as well as becoming a staple of the Edinburgh Fringe Festival.
Book
Venue St Andrew's Church
Market Place
Chippenham
Wiltshire
SN15 3HT