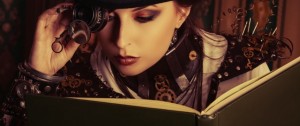 Composed and Written by Paul Shapera
Presented by Drama Llama Productions
This 4-act play is set in the fantastical steampunk city of New Albion. The history and culture of the city is described by Kate, the narrator. As each new generation passes the city grows and evolves, along with the people in it.

The story follows four generations of McAlistairs, beginning with the mad scientist Annabelle, who is attempting to raise the love of her life from the dead by placing him within the body of a mechanical mannequin, Jasper. Each generation's meddling with these Dolls contributes to the gradual fall of New Albion itself.
You're welcome to dress up in your steampunk finery or come as you are- it will be an evening not to be missed!
Book
Venue The Neeld
High Street
Chippenham
SN15 3ER